"The 6th BRICS Students Forum"was Held in UIBE
From October 10th to 11th, Business School of University of International Business and Economics (UIBE) successfully held "the 6th BRICS Students Forum" with the purpose to improve quality and skills, cultivate strategic awareness of globalized development and promote the rapid and sound development of economic globalization. Teachers and students of business schools from 11 universities of BRICS countries gathered together. The universities included Renmin University of China, Guangdong University of Foreign Studies, Beijing Union University, Shanghai University of International Business and Economics, Shanghai International Studies University, Amity University, KLS, Gogte Institute of Technology, Xavier Institute of Management and Entrepreneurship, Far Eastern Federal University, and State University of Management.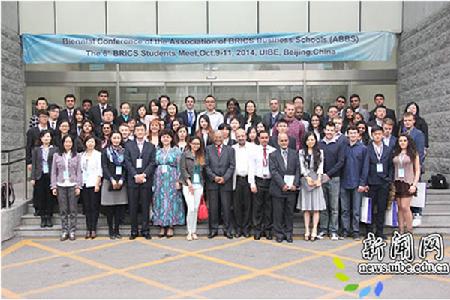 "The 6th BRICS Students Forum" was composed of six parts. They are Theme Forum, Enterprise Tour, Party & Culture Show, Founders Conference, Sand Table Competition, and Visit to the History Museum of UIBE.
In the morning of October 10th, the Theme Forum was held at Room102, Keyan Building. With the theme of "Innovation, Future, and Management Education in Your Eyes", the forum gathered together teachers and students of business schools to discuss the issue of MBA education. Professor Xia Haiquan, Director of Department of International Relations, Li Yinghai, Associate Dean of School of International Education, Professor Fan Libo, Associate Dean and Party Secretary of Business School attended the forum. Professor Xia Haiquan delivered a speech and extended a warm welcome to all the teachers and students present the BRIC Students Forum. Host of the forum, Professor Qi Yinan of Business School introduced the previous development and future of Business School. Four teacher representatives and nine student representatives made keynote speeches, discussing the innovation and practice of management education. Based on the overall situation of "innovation and future", the Theme Forum lasted 3.5 hours with the aim to jointly explore future development of management education from the different perspectives of business schools and students. As participants of management education, teachers and students of business schools elaborated the connotation of responsibilities and innovation.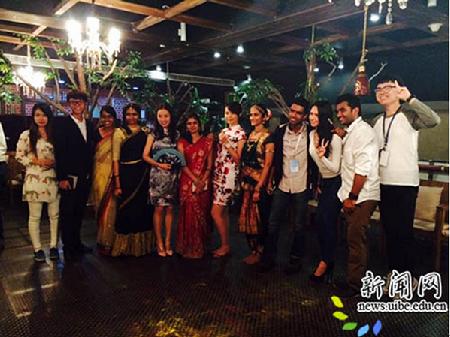 In the afternoon, all the participants took a bus to visit the manufacturing base of BAIC—the second factory of Beijing Hyundai in Shunyi District. Guided by the staff, students watched the corporate video of Beijing Hyundai and had a preliminary understanding of its culture "New Thinking, New Possibilities". Then, participants visited the manufacturing workshops. Combing the theme of BRICS Students Forum, the tour to Beijing Hyundai Company made it clear to students that at the context of economic globalization and nationalization, students should take the attitude of masters, apply new ways of thinking and acting to practical work and study, and become inter-disciplinary management talents.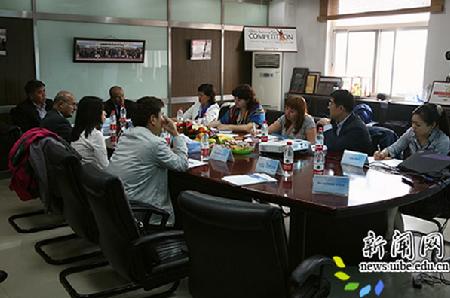 In the evening, the Party & Culture Show of BRICS students were held at the VOX Coffee at the fourth floor of Keyan Building. This provided students from different schools and different countries a social platform to show their distinctiveness and to increase their understanding of other countries' culture. More than 20 students from China, India and Russia gave excellent performances in singing, dancing, and musical instruments. Students from UIBE showed the delicious traditional Chinese food—dumplings and foreign friends all praised the delicious food. Students from Shanghai University of International Business and Economics presented the cheongsam culture in Shanghai and prepared Shanghai specialties and handicrafts to all participants. Students from Guangdong University of Foreign Studies demonstrated various local snacks, including chicken cookies, almond biscuit, and ginger milk pudding. Indian classic music and traditional dancing shown by Amity University students were quite impressive. Students of Far Eastern Federal University displayed postcards and Russian nesting dolls with Russian characteristics and sent them as gifts to students who answered correctly to their questions. The Party and Culture Show were so wonderful that it created one climax after another and everyone had a good time.
Founders Conference
In the morning of October 11th, teachers from business schools of BRICS countries attended the Founders Conference at Room 820 of Ningyuan Building. Professor Fan Libo, Associate Dean and Party Secretary of Business School attended the meeting and discussed the exchanges among BRICS business schools with 11teachers from 8 universities. They also discussed issues concerning next student forum. 7th BRICS Students Forum was temporarily scheduled to be held by Russian State University of Management in Moscow.
Sand table competition
On October 10th, students participated in the sand table competition at Room 102 of Keyan Building. Sand table competition is a professional experience competition to explore, analyze, and find ways to the possible problems concerning cooperation, communication, competition, stress and conflicts in teams. The competition was divided into 5 parts: ice-breaking, rules explanation, deduction, summarization, comments from guests and prize awarding. Participants were randomly divided into several teams. Every team needed to make reasonable planning of the sand table according to the rules to ensure acquiring largest profits with limited resources. The sand table competition increased exchanges of participants and made students understand the importance of setting and managing objectives as well as the impact of improper use of resources on the team. Sand table competition guided participants to find problems in the team and to seek effective solutions. At the same time, it cultivated the leadership of participants to help them make thorough decisions in management, sales and communication.
Visit to the History Museum of UIBE
After the sand table competition, students visited the History Museum of UIBE at the first floor of Keyan Building. This visit further increased BRICS students' understanding of UIBE.
This meeting promoted the cooperation among the universities and at the same time enhanced exchanges among students. It also broadened the internationalized vision and process of UIBE. As the meeting concluded, teachers and students from BRICS universities were on their way home, which represented a complete success to "the 6th BRICS Students Forum".